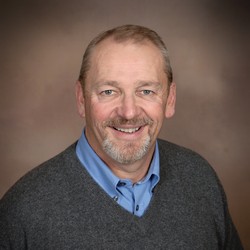 When he graduated from Chamberlain High School and went to college at Creighton University in Omaha, Doug Knust never thought he would come back to small town South Dakota. But when he and his wife, Judy, decided to start a family, the idea of raising children in South Dakota sounded pretty good to them. So Doug changed careers and he and Judy came home to Chamberlain to join the family car dealership in 1986.
They have never looked back at that decision with anything but gratitude for the opportunity they had to return to their hometown of Chamberlain. "At the time, our decision was driven primarily by our desire to have our children grow up near their grandparents," said Knust. "We now realize that living in the safety and friendliness of a small South Dakota community has been a lifelong blessing."
So they have made every effort to give back to their communities - both the Chamberlain-Oacoma community and Winner. It starts with running a business that is a great place to work, offers a family environment and serves the needs of the customers well.
They also look to serve the community in other ways. Doug learned from his father and from his Jesuit education the impact of servant leadership. He feels it is important to give back, not just financially, but an even more precious commodity, the gift of time.
In 2001, Doug organized a service club for Chamberlain (and now) St. Joseph's Indian School boys called the Explorers. He meets weekly with the group to work on service projects, field trips, dances and other activities. The group has been recognized by the South Dakota School Administrators Association, the South Dakota Middle Level Educators, the Chamberlain Public School District and the Chamberlain-Oacoma Area Chamber of Commerce. Knust has been recognized as an NFL/Ameriquest Mortgage Neighborhood All-Star for his work with the organization.
"I am very grateful for my opportunity to work with these young men," states Knust about the Explorers Club. "We stress leadership, particularly servant leadership, and manly skills. We try to have some fun doing it".
Knust also coaches basketball at St. Joseph's Indian School, teaches religious education at St. James Catholic Church and teaches Junior Achievement classes at Chamberlain High School.
Since 2007, Knust has represented the new automobile dealers of South Dakota on the National Automobile Dealers Association. He has served on various NADA committees including election to the Finance Committee in 2012 and NADA Retirement Trust Committee in 2011. He also serves on the South Dakota Automobile Dealers Association board and is a passionate advocate for small and rural automobile dealers in South Dakota and across the country.
He serves or has served on other industry committees or boards including the Ford Government Relations Dealer Advisory Board and the South Dakota Automobile Dealers Association Executive Board. He serves on the St. Joseph's Indian School (Chamberlain, SD) Board of Directors, the South Dakota Development Corporation Executive Board and various other local boards.
He is married to his best friend and God has blessed them with two daughters, a son and a son-in-law.
Knust loves to harness the South Dakota winds as an avid sailor. He also enjoys golf, bicycling, hunting, college hoops (he is an avid fan of the Creighton Bluejays), and outdoor cooking.